CARTHAGE – A sure sign of summer is the opening of local farmers' markets.
The Chamber of Commerce of the Country of Carthage opened Friday the Artisan and Peasant Market of Carthage with new schedules.
Rebecca J. Wallen, the chamber's executive director and farmer's market manager, said current vendors were asked for their input on the hours.
"Then we took to social media and asked the community if they wanted later hours and they said an astonishing yes," Ms Wallen said. "So we decided to switch and try a night market to better meet the needs of the community."
Beginning on Memorial Day weekend, the Market at the Pavilion at the end of Riverside Drive will be held from 1-6 p.m. every Friday through the second week of October.
The market manager said that by shopping at the "Carthage Craft and Farmer's Market, you are supporting a friend, a neighbor, a member of the local community".
"We have a beautiful market located next to the scenic Black River, with great views and wonderful local vendors who are passionate about bringing fresh, local produce to the community of Carthage," Ms. Wallen said. "It's been a great day."
Opening day vendors said they liked the late hours and felt it made them more convenient for customers.
Although rain may have kept some customers away on Friday, vendors said they had a good day.
Christina Soltzfus of Willow Grove Bake Goods said she sells lots of tomato and strawberry plants as well as freshly baked bread and pies.
"I did better today than most of the season last year," said Melissa A. Myrick of Bumble Bee Creations.
Aiyala A. Kirk visited the market at the end of the day with her two daughters.
"We prefer late hours," she said. "We would have missed it today otherwise."
She noted that they were out of town on Friday and noticed that the market was still open when they passed.
"With work and school it's better," Ms Kirk said.
Her daughters, Mya, 6, and Sophia, 8, had shopped for knitted hats for their dolls and were already picking out next week's selection.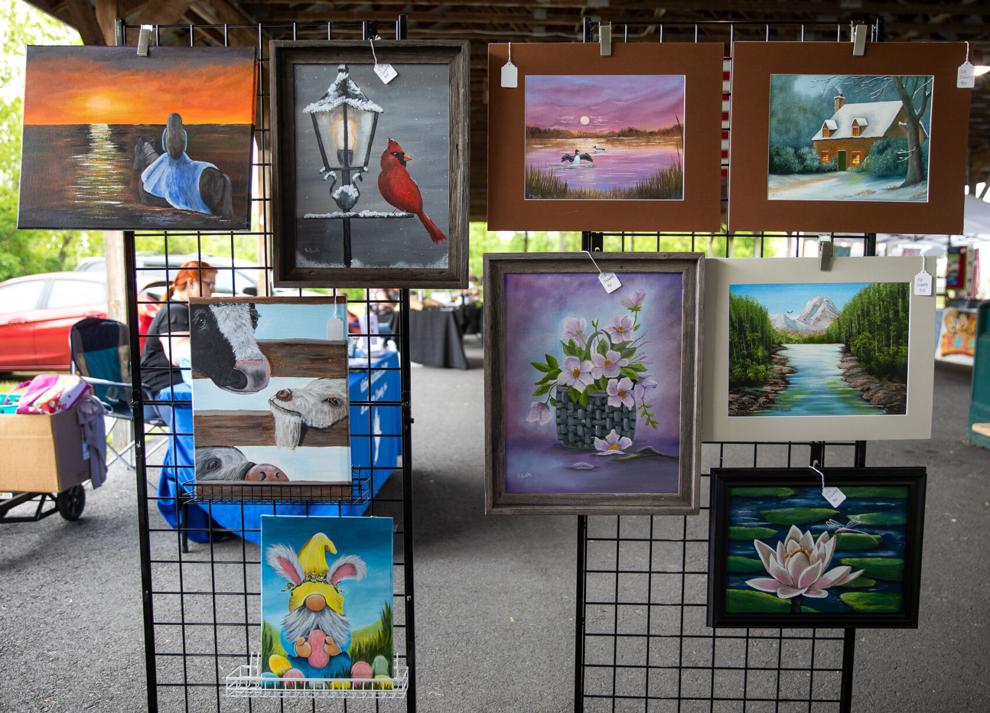 Jeane A. Eager of Jeane's Crafts, a new seller in the Carthage market, said she had been a customer and had now decided to sell her wares.
"With COVID, I had too much free time," she said, browsing through her inventory of embroidered and handmade items as she knitted a new creation.
The market is still accepting new suppliers and a verification process is underway.
"We are always looking to expand and grow," Ms. Wallen said.
Vendors must grow their produce in the tri-county area, and craft vendors must sell homemade items.
Food vendors are also encouraged to apply. The market is also looking for musicians to offer family entertainment on the market from 4 p.m. to 6 p.m. Paid artists from all musical genres are scheduled for performances.
Non-profit organizations are invited to set up on the market for free. All non-profit organizations must be approved by the market manager before their creation.
Casey L. Crabtree, Outreach Coordinator for the Jefferson County Victim Assistance Center, was on hand for opening day and plans to return throughout the summer to educate clients about VAC services.
"Most people don't understand that we have other programs," she said, noting that the agency deals with child death prevention and provides advocacy for victims of child abuse. 'children.
For more market information or to submit a vendor request, visit the chamber's website at www.carthageny.com or call 315-493-3590.
The Lyons Falls Farmers Market, organized by Lyons Falls ALIVE, plans to hold a ribbon-cutting ceremony to open its market at 11 a.m. on June 14 at Riverside Park, 6904 Laura St.
According to organizers, several Lewis County leaders and local businesses have been invited to attend. As the opening takes place on Flag Day, the first 100 customers will receive a small flag.
The market will be open from 11 a.m. to 4 p.m. every Tuesday until October 4.
More than 30 vendors and several non-profit organizations with stalls offering free information about their services have pledged to participate in the market. Lunch will be available for purchase from the Lyons Falls Fire Department at the park from 11:30 a.m. to 2:00 p.m. each week.
The market accepts Supplemental Nutrition Assistance Program EBT Cards. The market also participates in the Farmers Market Nutrition Program, which gives $20 coupons to eligible WIC seniors and mothers.
The market is accepting applications from farmers, bakers and artisans until June 7. Contact Katie Liendecker at [email protected] or call 315-348-8744 for farmers and bakers and contact Patty Corey at [email protected] or call 315-348-6590 for crafters.
The mission of the Lyons Falls ALIVE Farmers & Crafters Market is to make fresh, local food available to locals, provide farmers and crafters with an outlet for their produce, benefit local businesses with more traffic and… increase positive community spirit.
Other Lewis County Farmers and Craft Markets:
Forest Park Pavilion, Lewis County Fairgrounds
5485 Bostwick Street, Lowville
8 a.m. to 2 p.m. Saturdays from June 4 to October 29.
Contact: Rhonda Farney, 315-346-6759
Lewis County General Hospital, 7740 West St., Lowville
11 a.m. to 3 p.m. Thursdays from June 9 to Oct. 6.
9 a.m. to 4 p.m. Saturdays from May 28 to Oct. 29.