Iowa City cancels Wednesday Farmer's Market for 2022 season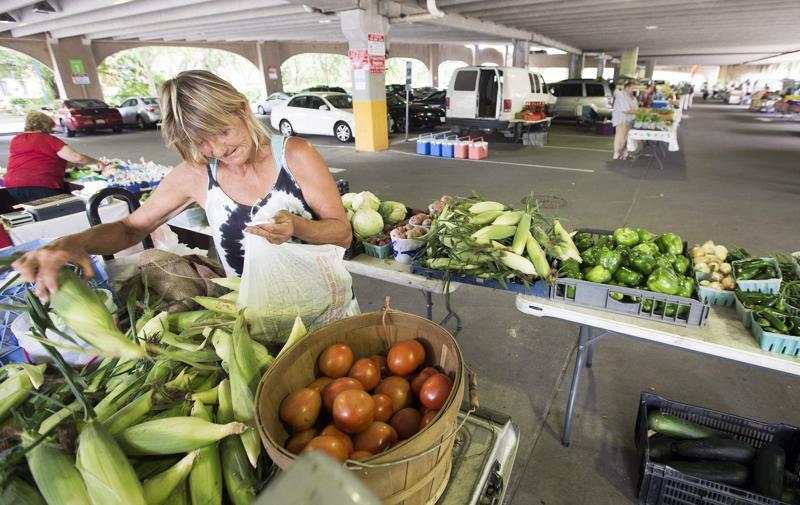 Not enough suppliers registered by the February deadline
Shari Morrison of Shellsburg packs dozens of corn in August 2015 at the Gordy's Goodies produce stand at the Iowa City Farmers' Market in the Chauncey Swan Ramp. (Liz Martin/The Gazette)
IOWA CITY — Iowa City's Wednesday Night Farmer's Market is canceled "for at least the 2022 season."
Brad Barker, the city's superintendent of recreation, said he sent word Thursday afternoon to all vendors advising them of the decision.
"After careful consideration, the Iowa City Department of Parks and Recreation has made the difficult decision to cancel the Wednesday Farmers' Market for at least the 2022 season," the message to vendors reads.
Vendors have been invited to register and commit for the 2022 season by February 15. A total of 15 vendors for the full season were needed, but only 11 signed up, according to the post.
"Those who have attended the 2021 Wednesday Farmer's Market season know firsthand the decline in the number of customers and vendors," the post read. "Although this may be partly due to the pandemic, these numbers had also declined in previous years."
Juli Seydell Johnson, the city's director of parks and recreation, told The Gazette that the Wednesday night market "has seen a steady decline in the number of vendors over the past 10 years." For many years, Seydell Johnson said, the Wednesday market had 55 stalls with vendors.
The post described promotions the city attempted to increase attendance at the Wednesday Night Market, including incentives for new vendors and increased marketing efforts, but attendance "continued to decline."
"We sincerely appreciate the vendors who consistently participated in the Wednesday Night Markets and the public who stopped by to support these vendors," the post read.
Wednesday vendors who paid to register in advance will receive a full refund.
Saturday Farmers Markets will continue as scheduled. The Iowa City Farmers Market began in August 1972 with vendors selling on Saturday mornings. The Wednesday night market started five years later in 1977, Seydell Johnson said.
Saturday markets run from 7:30 a.m. to noon May through October at the Chauncey Swan parking ramp on East Washington Street.
Comments: (319) 339-3155; [email protected]