Lehighton Farmers Market goes on all winter – Times News Online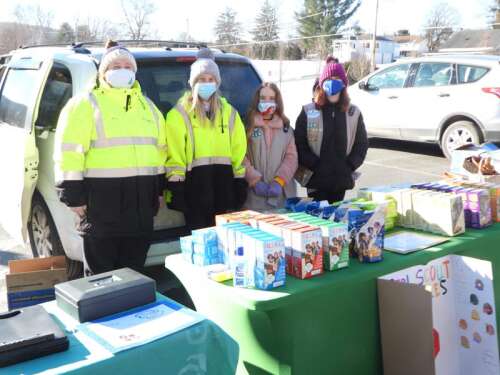 Published on January 29, 2022 at 06:33
It's a tradition that's over a century old, and it's something that feels good to everyone involved.
The Lehighton Downtown Farmers' Market, Winter Edition, brings local farmers and artisans to the Lehighton Recreation Center on Eighth Street South to sell their locally made and produced wares.
It also gives shoppers the opportunity to shop locally, support local businesses, and cook with generally higher quality and healthier foods.
"This is the third year for the winter farmers' market," according to Bambi Elsasser, manager of the Lehighton Downtown Partnership. "The summer version, in the downtown park, we've had it for six years."
The number of sellers changes every time, sometimes up to 15 sellers, sometimes less.
The winter climate presents its own challenges for an outdoor market. It was chilly 4 degrees Saturday morning.
Vendors had to keep some of the meat and vegetables in coolers to maintain temperatures, otherwise they could freeze more than they should.
The message from most vendors was the same: buy local and support local businesses.
Some of the sellers have observed that as more shortages hit grocery stores in the area, they are seeing an increase in their sales. Ansel Bachman of Patriot Farms in Lenhartsville described how when grocery stores faced empty shelves last year, his sales surged at farmers' markets.
"As grocery stores have started to reopen, sales have fallen slightly," Bachman said. "But as more and more shortages occur in stores, there will be more demand for us."
Patriot Farms sold a variety of meats like pork, bacon, ham and sausages as well as vegetables like Swiss chard, fennel and micro greens.
The pandemic has also caused some companies and groups to rethink how they sell things. Girl Scout Troop 329 in Lehighton, for example, had a table selling Girl Scout Cookies.
"Last year we couldn't make sales like this," said co-manager Amanda Tertel. "This year they are allowing us to sell, but we have to wear masks, have hand sanitisers, disinfectant wipes, the whole nine yards. Girls should limit customers touching cookies.
Other vendors include BAD Farms in Kempton, selling pasteurized and raw milk, yoghurts, cheese products, eggs and smoothies.
Shocharie Ridge Apiary sold a variety of honey products.
Debbie's Pie in the Sky of Albrightsville offered an assortment of baked goods as well as savory items like meatloaf, macaroni and cheese, and Mexican chicken soup.
Bangor's Liberty Acres Farm had pork, chicken, duck and turkey products, including pet treats.
Storms End Homestead had a table selling herbal products, elderberry syrup, upcycled and upcycled fabrics and materials to create their own range of gift items.
The Lehighton Town Center Farmer's Market is open the second and fourth Saturdays of each month from October through April.
In May, the Farmers Market will return to the Lower Park across from the Municipal Building. Anyone interested in setting up tables or booths can contact Bambi Elsasser at 610-509-6465 or email [email protected]
Girl Scout Troop 329, Lehighton, selling Girl Scout Cookies at the Lehighton Town Center Farmer's Market.
RIGHT: Cran-Cherry Bars, one of the delicious baked goods sold by Debbie's Pie In The Sky at Lehighton Downtown Farmers Market. See tnonline.com for a photo gallery.
A display of honey from Shocharie Ridge Apiary, New Tripoli.
BAD Farms at the Farmers Market with a variety of dairy products, eggs and more.
ABOVE: Vendors prepare their stalls at the Lehighton Downtown Farmers Market at the Lehighton Recreation Center. JAMES LOGUE JR./SPECIAL AT THE TIMES NEWS
Elderberry syrup on display from Storms End Homestead, Lehighton.