Let's have lunch and more at the Olympia Farmer's Market
Life is better with lunch. Olympia Farmers Market's array of world cuisines is one obvious reason to please your palate, but there's more. Senior Services for South Sound has partnered with Olympia Farmers Market to offer special programming on the third Thursday of each month on the Center Stage. Find a seat under the covered performance area from around 10-11:30 am and be entertained.
So far this season, people have decorated reusable cloth bags and been entertained by the Heartsparkle Players. The July program includes two performances of a reading theatre.
In August, you can meet and greet the Senior Center's fall faculty. Did you know that you don't have to be a senior to take classes? Everyone is welcome. The quality of teachers is amazing with university professors, regional artists and notable locals.
In September, the mic will be open for harvest stories. People will talk about farm work and thoughts about life. Start planning for the October Costume Contest, open to all ages.
Third Thursdays are special at the Olympia Farmer's Market, but any Thursday morning is a great time to visit. Crowds are less than on weekends and you'll have first choice for all the goodies the vendors have for sale that day. You won't find fresher produce unless you've picked it from your own garden.
Meet a friend or business acquaintance for an outdoor lunch. Take a walk down the aisle of the restaurant to decide what's best for you today. The array of international choices delight carnivores, vegans, and everyone in between. To whet your appetite, here are the amazing food vendors at the Olympia Farmer's Market.
Curry in a hurry
It's a small space with big choices. There's spicy hot shrimp vindaloo or milder options if the heat isn't for you. The chicken curry is gluten free as it is the alumutter, which has no meat. Order the house chai hot or cold. You can order takeout and even order ahead online.
Dingey's Kitchen
Fish and chips and salmon benedict with bacon and maple make this long-time family-run establishment a favorite for a stop at the Olympia Farmers' Market. Dingey's chowder and lemonade are good any time of the morning or afternoon.
Apogee Cafe
Coffee drinks and a rainbow of smoothies are essential to Northwest culture. Heyday prepares soups, sandwiches and salads using ingredients from other market vendors. For example, the tutti frutti yogurt parfait is topped with Rebel Crunch Granola from Blue Heron Bakery.
Los Tulenos
Roberto and Saul serve flavors from their home country of Mexico and prepare everything on the spot. They have been cooking together for four decades! At Los Tulenos you can practice your Spanish, if you wish, and get a big smile from Roberto.
Madeline's Bavarian Wurst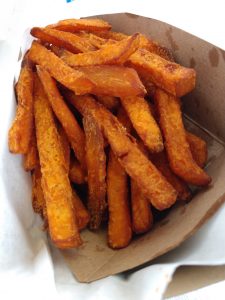 Find a sausage menu, called wurst at Madeline's Bavarian Wurst. Each style brings its own flavors. Don't forget to add mustard and sauerkraut for the full experience! I have a thing for sweet potato fries. There's also a list of breakfast options with biscuits and gravy, eggs in many preparations, and pancakes.
Paella Pro
The giant paella pans always cook a mixed recipe with chicken, chorizo, prawns, onions, tomatoes, green beans and Bomba rice and a vegan recipe highlighting various vegetables. The third pan varies. You can check the Paella Pro website ahead of time to find out what's on the way. Tony loves visiting customers and sharing his culinary interests.
Pithos Gyros
The vinified stand is Pithos, with typical Greek dishes such as gyros, feta, roast potatoes and tzatziki. Have you ever eaten tzatziki? It's a dip with grated cucumbers, yogurt, olive oil, garlic, lemon juice, salt and herbs. I used to skip it until I drizzled it over my meal. Now I use a big spoon.
Soba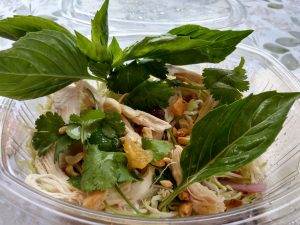 Chopsticks or not – noodles are fun to eat at any age. Soba is another long-running family restaurant, bringing people back for food and friendship. You can easily find meat or meatless dishes.
After lunch, you might want a candy. The Olympia Farmer's Market offers many possibilities. It's worth wandering through the stalls to admire the cookies, bars and other tempting treats, including ice cream and shaved ice. If you're full after lunch, take something home for later at one of the many delicious sweets vendors:
sweet dreams sweets
Blue Heron Bakery
Chehalis Mints
Baker / Potter
San Francisco Street Bakery
Wagner Market Square Bakery
The bread merchant
Diamond Head Shave Ice
The Olympia Farmers Market works hard to keep you coming back for more. Delicious cuisine, succulent products, creative artists and artisans, seasonal specialties and entertainment, there is always a surprise waiting for you. It is open Thursday through Sunday from 10 a.m. to 3 p.m. There is ample free parking at the rear. You can follow the Olympia Farmers Market on Instagram, Facebook and Twitter or via subscription to the e-mail newsletter.
Sponsored