IIt's a given, 2-year-old Truman Shaw and his mother will return home from their weekly trip to the farmer's market with a bunch of locally grown produce, meats and poultry.
However, the "icing on the cake" for Truman is the stand at Henneke Farms, where Gary Henneke always gives the boy a cute spotted guinea fowl feather.
"I forget how long I've been bringing these for kids – and something (for) adults too," said Henneke, who has been selling since 2016. "It's a nice touch. "
The first farmers' market of the year was like the others. Henneke was ready with his bag of feathers, and Truman and his mother, Tiffany Shaw, braved the cool Wednesday morning to get their weekly staples.
Just under ten vendors settled down for the first farmers' market of the year, selling their usual selections – with some changes due to unprecedented inclement weather last year – and with hopeful optimism for the coming year.
Dominique Stange, of Stange Homestead, brought with her the usual selection of tomatoes and sweet potatoes as well as a selection of other local produce and other items.
However, due to the unprecedented snow and ice storm of February last year, it was running out of citrus products for its customers. The cold, she said, killed her orange trees, which can take up to a year to bloom and bear sweet fruit.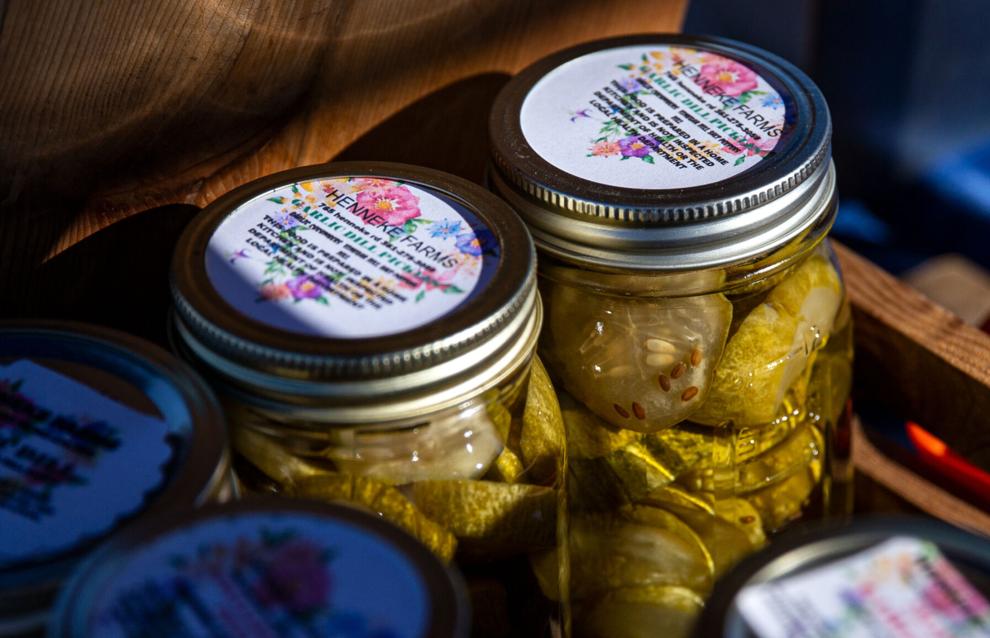 Additionally, she said all of her greens fell victim to the late December cold.
Instead, Stange and her husband considered starting to bake cookies, pastries, strudels, and other sweets – which she says has been a popular alternative.
"Sometimes you have to adapt. That's the name of the game in this business, "she said. She and her husband have been coming from Schroeder to the market for just under three years. "This is South Texas. There's no way to know what the weather will do.
Outages like this are also great opportunities for suppliers to educate customers about the impact of the weather on them, said Meredith Byrd, market manager.
Byrd said the time spent between vendors and customers is crucial as many visitors to the market begin to grow food at home.
Customers will also be more likely to come to the market than in previous years. The market plans to meet on Wednesdays and Saturdays in the future.
Byrd said she believes the Wednesday market has the potential to be comparable to the weekend market in terms of shoppers as the news spread.
"There's a good chance Wednesday can pick up and match the turnout we're seeing over the weekend," Byrd said. "I think people will understand, and we will see more customers during the week."
Tiffany Shaw, who spoke while her 2-year-old son inspected his guinea feather in Henneke, said Wednesday dates fit her schedule better.
"Sometimes on Saturdays you just want to take the day off and get some sleep," she said. "People now have the choice to come on weekdays and sleep on Saturdays. It's good."
Wednesday morning got off to a slow start. But as the weather warmed up, dozens of customers – regulars and newbies alike – came to buy the vendors' products.
Brooks Rudolph and Whitney Rudolph, of Yoakum-based Heritage Acres farm, said this year could be good for the market as the community pulls out of the previous year, which was affected by the COVID-19 pandemic and supply chain issues for grocery chains.
"People might be looking to support themselves at home… the farmers market is the best place to learn these skills," said Brooks Rudolph, who has been coming to the market since September. "The education component is important for people. Additionally, people may want to see where their food comes from.
Henneke, Stange and the Rudolphs have all said they have a positive outlook for the year, which they hope will bring more stable and predictable weather for the sake of their crops and livestock.
Nonetheless, they will be prepared for whatever happens to them and are happy to teach clients their trades.
"I hope more people will come and see us," Stange said with a laugh. "We have great, healthy food and we can tell you where it's all coming from. "