Newtown Farmers Market Tuesdays in Fairfield Hills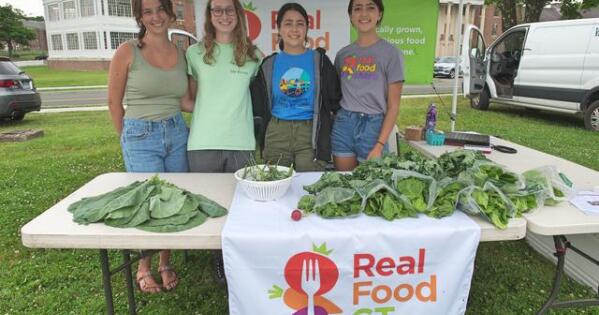 Posted: Jul 03, 2022 8:00 AM
The Newtown Farmers Market has been back for two weeks now, with the first day of the market on June 21.
The Newtown Farmers Market is held in Fairfield Hills on Tuesdays from 2-6:30 p.m. It will continue until October 25. The Newtown Farmers Market is held rain or shine; however, it closes in extreme weather conditions, such as high winds or thunderstorms.
This year's Market Leaders are Natalie McCraigh of Wonderland Jam, Sue Shortt of Shortt's Farm and Sean Fitzpatrick of Real Food CT, formerly known as Real Food Share.
Fitzpatrick said this week the opening was good, with good weather, a bunch of new vendors this year and some rain that held up.
"We look forward to a great season and hope all of Newtown will come out to support [it]said Fitzpatrick in a recent phone interview.
Fitzpatrick said he and the other market managers want residents to know "how important local farmers' markets are" to the communities they support.
The Newtown Farmers' Market, Fitzpatrick pointed out, has more than 15 vendors who offer a wide variety of farm produce and baked goods.
As previously announced, Newtown Farmers Market organizers also hope the community will join in on a new project this year: sharing photos both on social media and with the market of their favorite things and moments while shopping at the market. . Residents who frequent the market are encouraged to take photos of "the things that make them happy there" and send those photos to the "newtown_ct_farmers_market" Instagram account or Facebook page, facebook.com/farmersmarketatfairfieldhills. People can also post photos to their own social media accounts and tag Newtown Farmers Market accounts.
Education Editor Eliza Hallabeck can be reached at [email protected]
From left, Maddi Larson, Rebecca Walsh, Sarah Adams and Jaime Adams stand together at the Real Food CT tent at Newtown Farmers Market on June 21. —Bee Photos, Hallabeck
The Roytman family oversees the Jackalope tent, offering organic seeds and sprouts, at the Newtown Farmers' Market on June 21. Left to right are Carolyn, Jackson, Beau, Adam and Max Roytman.
Opening day of the Newtown Farmers Market on June 21.