The Peace River Farmers' Market will kick off another season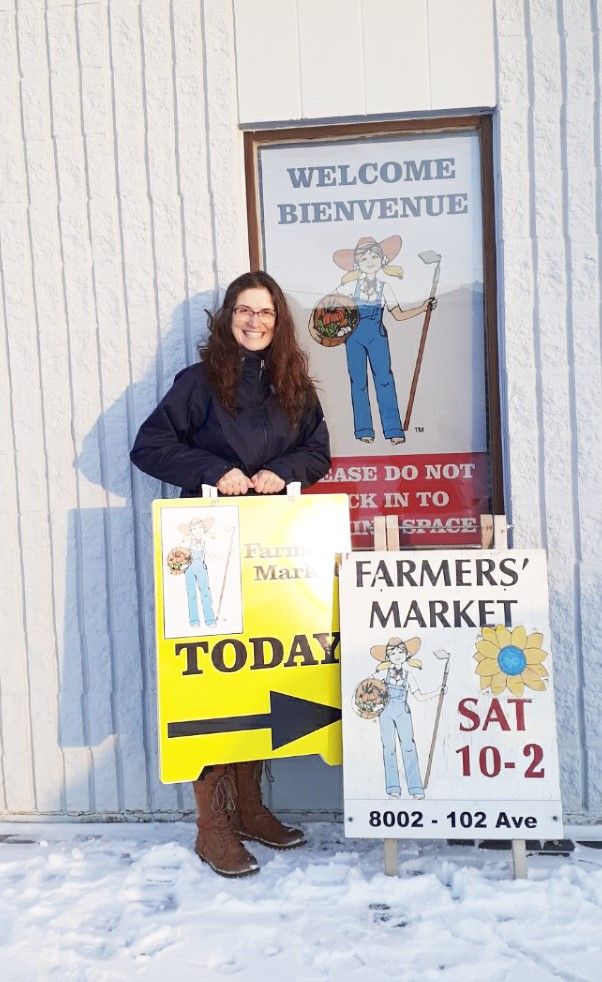 Content of the article
February 12 marks the first Peace River Farmer's Market in 2022.
Content of the article
Attendance at the markets, held in Bays C and D of the West Hill Industrial Plaza, has taken a hit since the pandemic was declared nearly two years ago, but market manager Tracy Simoneau is aiming for a greater visibility to improve customer flow.
"Covid has taken us down to low numbers," she said. "When we first moved here, we had 700, 800, sometimes a thousand people, shopping."
These days, she says, there are an average of 300 buyers in the markets.
The Covid protocol has been in place in the markets since they resumed in May 2020. Buyers are asked to "wear a mask, or a mask is provided; hand sanitizer is provided. Social distancing is required," Simoneau said, and added that with the fire code at 30% capacity, "we are allowed 30 shoppers at a time. We are one-way traffic – through one door and through the other. We ask that no one stop at a vendor's table if someone is shopping there. You move forward, recirculate, make another loop."
Note that at every farmers market, vendors are required to write their initials next to their name on a vendor list that they are free of Covid symptoms.
Simoneau is happy that people generally follow the recommendations. "It's going well," she said.
Farmer's market organizers purchased window posters and sandwich boards in late 2021, "to better let the public know where we are," Simoneau said, and they'll be something to watch this year.
The variety of goods in the markets is huge and varied, Simoneau said. She noted that sometimes market organizers overhear that the selection of items is the same at the markets, but "it's not always the same. The variety changes from market to market; every market is different. We have regular sellers – around 20 – and another 20 walk-ins.
Content of the article
"In 2021, we saw 120 vendors with their products."
The list of products available on the markets is long: "A farmers' market is agricultural equipment," said Simoneau. "Fresh meats, eggs, honey, wine, fruits from British Columbia. From June to October each year there are fresh products. We have many vegetable suppliers.
The list continues. "There's ethnic food, jams, pickles, baked goods, coffee, knitting and crochet, moccasins, native artwork, jewelry, woodwork and candles, skin care products."
When costs go up for farmers' market organizers — venue increases, for example — "table fees reflect that," Simoneau said.
In 2022, the fee for each walk-in vendor increased to $22 per market, up from $20 in 2021. If they can commit to booking a table for a few markets, vendors get lower rates Dear. "If they want to commit to ten dates, that gives them a discount," Simoneau said. "If they come all year, it's a bigger discount."
About the available spots, Simoneau said that all 40 spots have been reserved for the February 12 market.
She looks forward to the markets in 2022 and noted that 2022 is the 30and year the Peace River Farmers Markets operated.
All markets are held from 10 a.m. to 2 p.m., unless otherwise specified, at the West Hill Industrial Plaza. In addition to the February 12 market, dates include: March 12, April 9 (10 a.m. to 4 p.m.), April 23, May 14 and 28, June 11 and 25, July 9 and 23, August 6 and 20, 10 September and October 24, 1, 15 and 29, November 12, November 26 (10 a.m. to 4 p.m.), December 10 (10 a.m. to 4 p.m.)
"We miss all of our suppliers and customers who have been away since the start of Covid," Simoneau said. "We appreciate everyone and look forward to seeing and serving you safely in 2022."
Joanne McQuarrie/Postmedia Team