The thriving Old Town Cottonwood Farmer's Market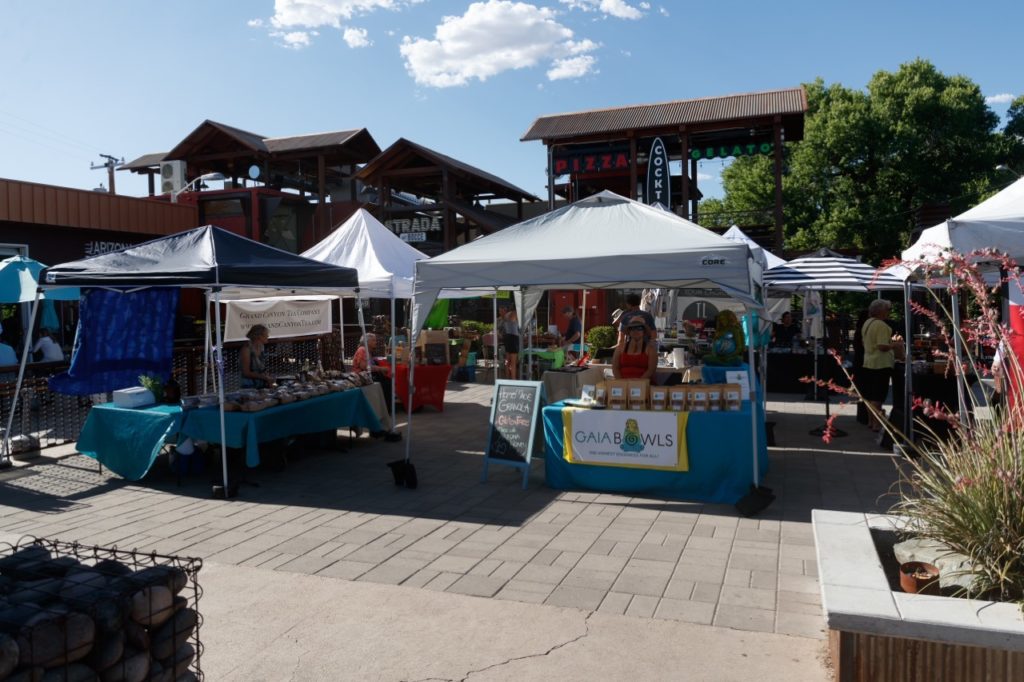 Despite scorching temperatures reaching over 100 degrees, the Old Town Cottonwood Farmer's Market was extremely busy on June 8.
Perhaps it was the light breeze carrying scents of homemade produce that drew people to the small courtyard outside the State Bar on Main Street, where customers seeking respite from the sun were invited to stroll through the pop-up market .
Nine local vendors offered a range of products from homemade food items to fresh vegetables and body care products.
For a light snack, Alexa Alcala offered a gluten-free granola made with local, organic ingredients from a health food grocery store in Cottonwood.
"I get all my ingredients [like cat claw honey and pecan honey] of Mount Hope," she said. "[Catclaw] has an earthy-sweet flavor; I like to use pecan honey in pecan granola.
For those looking for something a little more substantial, savory sandwiches made with freshly baked foccacia were available at the Downstream Dinette and Let Go Skate Co. tent.
Freshly brewed iced teas and cold brew coffee were also available at Downstream.
Across the street, the namesake and owner of Tiffanie Lord Designs greeted customers who came to admire her artfully sculpted candles, body products and "succulent" digital art prints.
Lord, who wore brightly colored native-made hummingbird jewelry, spoke enthusiastically about his designs, which draw inspiration from desert southwest iconography and Dia de los Muertos, to name a few. some.
"I have a lot of fun, I get my hands dirty," she said. "I just started with painting and drawing."
Lord's products are also sold locally in Old Town, as well as a retail store in Tlaquepaque in Sedona.
Others included a Queen Creek vendor whose owner, Audra Waddle, offered a variety of homemade honey-infused spreads and body products.
"I make whipped honeys; it's honey crystallized to perfection to make a fluffy spread, then I add dried fruits or organic spices to it," she said. "I make blueberries, lemons, strawberries, chocolate; I also have jalapeno.
"Lemon is my favorite," Waddle said. "Original, jalapeno or blueberry are my three favorites for [charcuterie boards]."
Handmade microgreens and jewels, fresh vegetables and sunflowers as well as handmade blended teas from a tea company formerly located in the Old Town were also available in the market.
Mother and daughter baking team Margot Bukvar and Margot Barre offered a variety of baked goods, including homemade breads and pastries with sourdough created from a 'mother mother', which is a living culture and fermented with flour and water.
"Every week you have to feed [the mother starter] or he dies," Barre said.
According to Bukvar, sourdough gives baked goods a lighter flavor.
"My mom has always been cooking," Barre said. "We started doing [markets] three years ago to be part of the community.
Barre and Bukvar visit various local farmers' markets, including Cornville, Sedona, and Munds Park.
Later in the day, once the sun's rays began to settle on the horizon, the band formerly known as India's Ella and the Fellas, played a set at the State Bar, where fans were asked to help them choose a new group name.
So far, their new name has not been officially announced.
"We haven't decided on a name yet," said the group, led by Danielle Glick. "At the moment we have someone contacting us to suggest names, and then each member of the group will choose their favorite.
After that, everyone will be able to vote based on our selection this Wednesday, both online and at our concert at the State Bar.